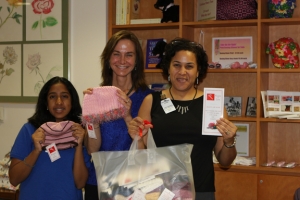 Cancer patients undergoing chemotherapy treatments often lose their hair quickly. A crochet chemo cap keeps their head warm, and offers comfort during a difficult time. Chemo caps, also called beanie caps and skull caps, are a tight fitting head cover that you can make with a variety of yarn styles. Adding buttons, pins or crochet embellishments gives the cap some personality and makes it fun for the patient to wear. Donating chemo caps that you made is a way you can show cancer patients there is someone that cares about what they are going through, and a great way to 'pay it forward'.
Knots of Love is an organization that collects handmade chemo caps from volunteers who donate their time and money making them. The organization was formed in 2007 by Christine Fabiani, after she made several hats for cancer patients she knew. All Knots of Love donated caps are distributed free of charge to people undergoing cancer treatments and other life-threatening illnesses. The main goal of the organization is to brighten the lives of people in need. Chemo caps have a impact on the spirit of the patients whose heads they warm, beyond the smile that it brings to their faces.
Knots of Love offers several free crochet patterns on their website. This makes it simple for you to crochet a chemo cap that you know will fit well, and send it to their donation center. There are some guidelines on the types of yarns accepted to make sure the patients receive a quality and comfortable hat to wear. With the variety of chemo cap crochet patterns available, anyone from a beginner crochet to an advanced level can gain the satisfaction of making these crochet hats. More information about this organization and how to donate crochet chemo hats is available at http://www.knotsoflove.org/resources/patterns/.
For a list of other Crochet Charities and organizations please visit Crochet University on our website.
Thanks for reading,
Hugs, Maggie
Be sure to…
Visit my Website
Join me on Facebook
Subscribe to the Maggie Weldon YouTube Channel for crochet lesson videos
Subscribe to Maggie's Crochet YouTube Channel for product reviews
Sign Up for My Newsletter
Follow us on Pinterest
Follow us on Twitter
Tell Me What You Think – comment below