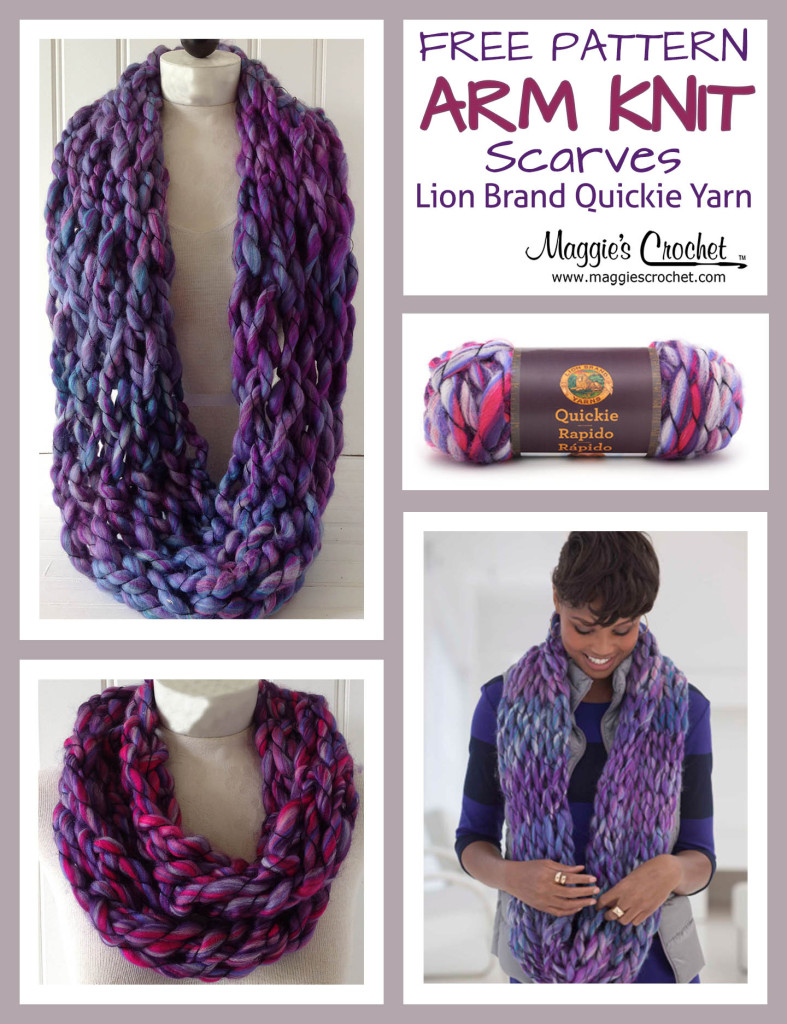 Arm Knitting is one of the fastest ways to create a beautiful scarf or cowl. Quickie yarn from Lion Brand was created specifically with arm knitting in mind. It's a #6 Super Bulky Weight yarn, made of 74% Acrylic, 22% Wool, and 4% other materials – a blend that will be warm and cozy on even the coolest nights. Quickie is available in seven variegated colors.
One skein of Quickie yarn is enough to make a skinny cowl that can be worn long or wrapped around for extra warmth.
In the tutorial video, we used 3 skeins to create a much wider cowl.
If you'd prefer a cowl that's somewhere in between these two, follow this pattern:
COWL
You'll need two skeins of Quickie yarn.
Cast on 8 stitches.
Arm knit until about 36 in. (91.5 cm) of yarn remains. Bind off.
FINISHING
Hold the ends of the piece together and with your fingers weave yarn tail in and out through the ends to join them. Then weave yarn tail through stitches to hide the tail.
Watch the Tutorial Video:
Here are the quick links to products and videos contained in this post:
  Hugs, Maggie
Be sure to…
Visit my Website
Join me on Facebook
Subscribe to the Maggie Weldon YouTube Channel for crochet lesson videos
Subscribe to Maggie's Crochet YouTube Channel for product reviews
Sign Up for My Newsletter
Follow us on Pinterest
Follow us on Twitter
Leave us a comment below