City Life Loopy Necklace Free Crochet Pattern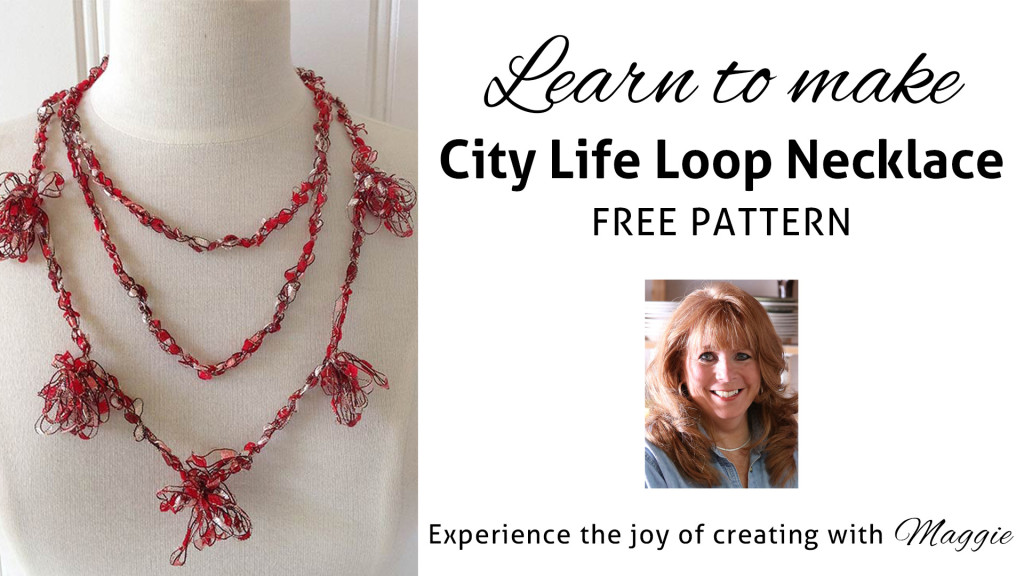 This City Life Loopy Necklace spices up a regular chain necklace by adding loopy clusters. These clusters are made similarly to the way the ruffles on a ruffled scarf are made – watch the video tutorial below for an example.
City Life yarn is a ladder style yarn that is perfect for many fashion and jewelry projects. You'll also need a size H-8 crochet hook.
If you need are new to crochet and need a little help with the chain stitch, check out Maggie's in-depth tutorial here.
Watch the Right-Handed video here:

Watch the Left-Handed video here:

Here are the quick links to the products and videos contained in this post:
City Life Loopy Necklace Pattern
Maggie is excited to offer Seven Free Chain Necklace Patterns: Dash Necklace, Fabulous Necklace, Ribbons Necklace, Starbella Lace Necklace, Starry Night Necklace, City Life Necklace, City Life Loopy Necklace.
Hugs, Maggie
Be sure to…
Visit my Website
Join me on Facebook
Subscribe to the Maggie Weldon YouTube Channel for crochet lesson videos
Subscribe to Maggie's Crochet YouTube Channel for product reviews
Sign Up for My Newsletter
Follow us on Pinterest
Follow us on Twitter
Leave us a comment below