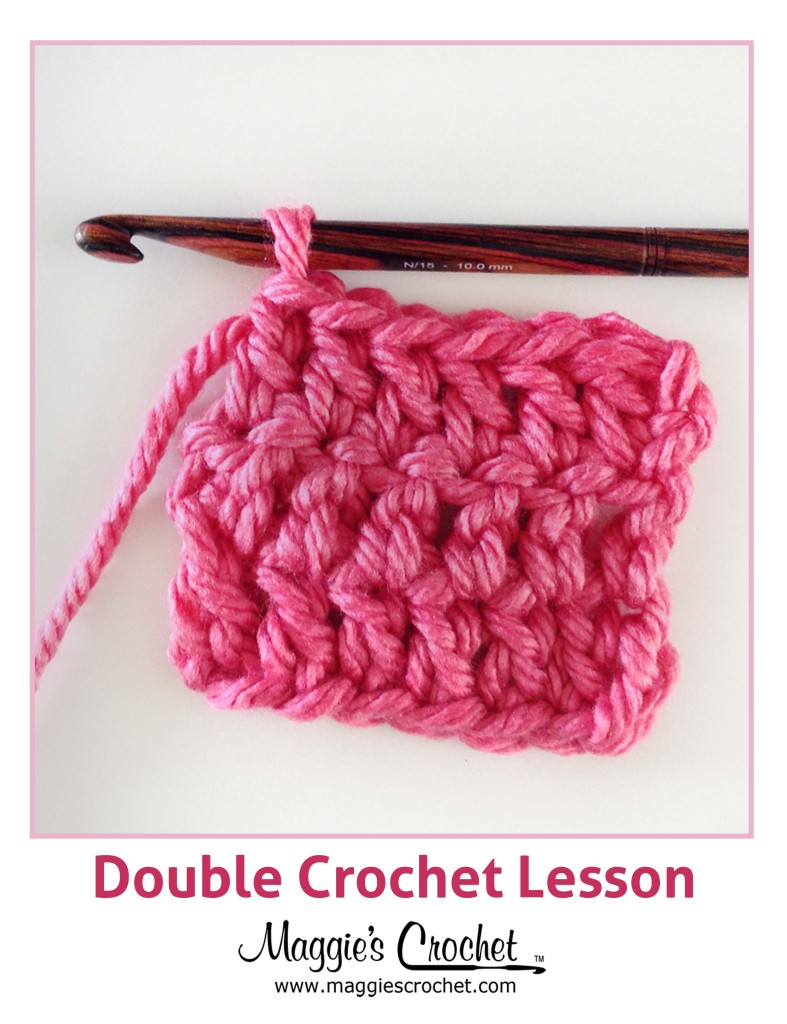 Welcome to Crochet University!
Over the course of 12 blog posts we will introduce you to the basics you need to know for most any crochet project. From a slip knot to a treble crochet, you'll learn all of the basic stitches and concepts.
For Crochet University you will need some basic supplies. To begin, we're going to be using Macra-Made super bulky yarn and a large crochet hook. The advantage of using a bulky weight yarn to begin with is that the loops and stitches are much more easily visible as you're learning.
You will also need an easy-to-use crochet hook. We recommend Dreamz Crochet Hooks. Dreamz hooks are designed by people who know and understand the art of crochet. All hooks have grooves that stitch slippage, making life a bit easier for beginning crocheters. Dreamz hooks have a polished wood surface that insures effortless glide – they work with every type of material.
Lesson 8: Double Crochet
The  Double Crochet (hdc) is a stitch that includes one step not in the half double crochet stitch. The
result is a stitch that is twice as tall as the half double crochet.
Work the double crochet with a yo, insert hk into the st and draw yarn through the st so there are 3 lps on the hk.   Hook the yarn and  draw  through 2 lps and then draw the yarn through the last 2 lps. Repeat  these steps for each dc in the row. Ch 3 at the end of the row before turning to complete the next row of dc stitches.
Watch the Right-Handed Video Lesson:
Watch the Left-Handed Video Lesson:
In Crochet Now!, Producer Candi Jensen brings you 29 fabulous projects bound to send you running for your crochet hook and yarn. Learn to crochet everything from scarves, to bags, to sweaters and toys. Show off your newly acquired skills by crocheting a beautiful sampler afghan square-by-square as you watch segments from the show highlighting those new stitches. Inside the book you'll find:
29 crochet project patterns from crochet experts including Candi Jensen, Mary Jane Hall and Drew Emborsky.
A DVD with Baby Afghan Square of the Week segments from Knit and Crotchet Now!
A crochet basics section with the information you need to start crocheting or simply freshen up your skills.
An episode guide to help you find the patterns from your favorite episodes.
Extra patterns never featured on the show but curated by Candi Jensen herself.
Maggie is excited to bring you Crochet University: Second Semester. Lessons for this semester are: Half-Double Crochet, Double Crochet, Half-Treble (Triple) Crochet, Treble (Triple) Crochet, Stitch Comparison and Crochet Through the Front and Back Loops.
Hugs, Maggie
Be sure to…
Visit my Website
Join me on Facebook
Subscribe to the Maggie Weldon YouTube Channel for crochet lesson videos
Subscribe to Maggie's Crochet YouTube Channel for product reviews
Sign Up for My Newsletter
Follow us on Pinterest
Follow us on Twitter
Leave us a comment below