Every holiday season I'm invited to several parties and get-togethers, and I hate to arrive empty-handed. A bottle of wine is always a nice gift to bring with you to a party, and our Merry Wine Gift Bag is the perfect way to dress it up. Merry by Premier® Yarns is a festive, chunky weight yarn that is excellent for holiday crochet and decor. And this project is a great beginner crochet project.
Isn't that just gorgeous? Let's get started. You can find the crochet pattern here. You will also need a size N-15 crochet hook, and a yarn needle. Ready to get started?
Video Tutorial for Right-Handed Crocheters
Video Tutorial for Left-Handed Crocheters
I hope you enjoyed making your Merry Wine Gift Bag. You will probably find many more uses for this little bag, so why not make several of them? Merry comes in nine different colors, so you have plenty of variety to choose from.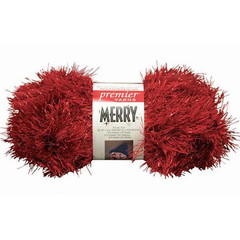 If you enjoyed this project, why not try another? Sparkle Mesh Clutch is also a festive and easy project that would make a great gift.
Here are the quick links to the items and videos contained in this post:
Video Tutorial for Right-handed Crocheters
Video Tutorial for Left-handed Crocheters
Happy crocheting,
Maggie
Be sure to…
Visit my Website
Join me on Facebook
Subscribe to the Maggie Weldon YouTube Channel for more crochet lesson videos
Subscribe to Maggie's Crochet YouTube Channel for product reviews
Sign Up for My Newsletter
Follow us on Pinterest
Follow us on Twitter