Orange & Yellow Daffodil – Free Crochet Pattern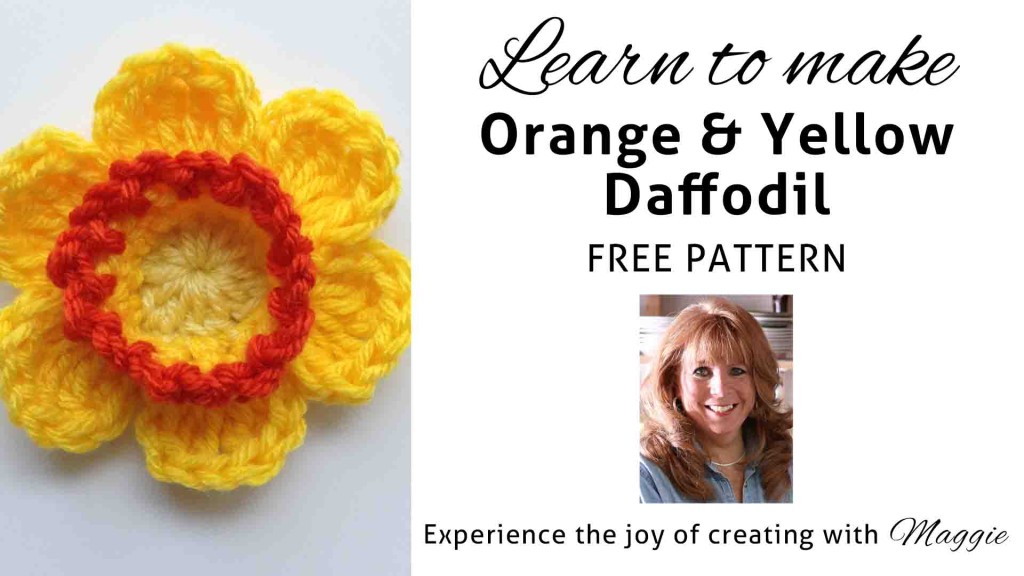 Did you know daffodils come in a variety of colors, not just plain yellow? They can range from white to yellow to orange with multiple combinations of colors.
This daffodil pattern adds a pop of orange around the rim of the center cup. You could also use the same pattern without changing colors if you want a more traditional daffodil.
This project can be worked with any weight of yarn. Finer yarns will produce a smaller flower, and bulkier yarns will produce larger flowers. Just be sure to pick the hook size appropriate for your yarn! We used light worsted weight yarn and a size I-9 hook.
Watch the Right-Handed Video:

Watch the Left-Handed Video:

Here are the quick links to the products and videos contained in this post:
Orange & Yellow Daffodil Pattern
Maggie is excited to offer Five Free Flower Patterns:  Chrysanthemum, Daffodil, Gerbera Daisy, Poinsettia, and Orange & Yellow Daffodil.
Hugs, Maggie
Be sure to…
Visit my Website
Join me on Facebook
Subscribe to the Maggie Weldon YouTube Channel for crochet lesson videos
Subscribe to Maggie's Crochet YouTube Channel for product reviews
Sign Up for My Newsletter
Follow us on Pinterest
Follow us on Twitter
Leave us a comment below