With the Thanksgiving holiday we have spent time counting our blessings, and we have a basket full – literally! Maggie's Crochet has been counting all of the handmade angel ornaments being sent to our office for the Brenner Children's Hospital Festival of Trees and we are so thankful for the help of our donors.
The Festival of Trees is an annual event in Winston-Salem, NC held right before Thanksgiving. Local groups and businesses decorate a total of seventy 7-1/2 foot tall trees, 24 miniature trees, and 24 wreathes to be auctioned off during the program. We decided to go big on our first year with this charity and decorated a 7-1/2 foot tree. Each group chooses a decorating theme—we had neighboring trees adorned with teddy bears, seashells, and even a Krispy Kreme themed tree! We decided on an angel themed tree, so from top to bottom our tree was decked out in white hand-crafted angels, blue and gold ribbon, and white lights.
All of our donations were so beautiful that we just had to document the process! We posted six videos on our youtube channelwhere Maggie unwraps the delicate ornaments often attached with touching letters.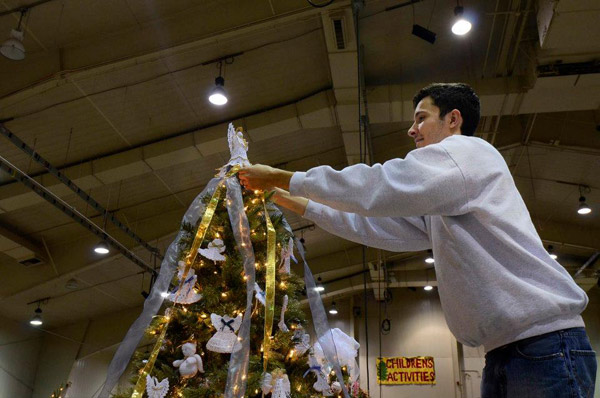 Pictures of our decorating process: hanging the first angel, crowning the top, meeting the winners of our tree, and everything in between can be found on our facebook albums and our pinterest board. At first we didn't know what to do with the handful of angels that wouldn't fit on our tree, but the purchaser of our tree Dr. Angela F. Edwards MD knew just what she could do with the basket of extras we placed on our tree skirt. She is going on a mission trip to China and will take the basket of angels with her! Meanwhile the tree will be delivered to a club house for office staff parties.
Although the Festival of Trees has now passed there are still several other ways you can make a difference through the art of needlework. Afghans and winter wear such as hats, scarves, and gloves are generally welcome at the local homeless shelters and women care centers. What better way to get in the holiday spirit than caring for others?
We would like to thank our angel donors for their time, warm wishes, and encouragement—this wouldn't have been possible without your help!
A GIANT THANK YOU TO ALL OUR ANGEL CROCHETERS:
Jody Witt – Tree Topper & Angel
Danita Cronin – Angel Tree Skirt
Angel Makers: Geneva Dees – Alexis Baril – Arlette Cheramie – Beth Walsh – Brenda Mobley – Cara Louise Reitbauer – Connie Daugherty – Connie Johnson – Debbie Franklin – Debra Loewenhagen – Diana Dwyer – Diane Capps – Doris Williams – Elena (no last name) – Jennifer de Spain – Joan Wautlet – Kathleen Stuart – Kathy Gates – Kathy Kuroda – Kay Brown – Kay Coppedge – Lauri Cornelius – M. Kay Johnson – Marguerite Hill – Marsha Graf – Mary Klute – Nadine Drake – Quilling Arnold – Rhonda Washburn – Ruby Lewis – Straughn (no first Name) – Tammy Kinney – Terri Jordan
Ornament and Angel Designs Available at MaggiesCrochet.com
http://maggiescrochet.com/thread-ornament-set-1-crochet-pattern-p-450.html
http://maggiescrochet.com/christmas-ornaments-set-2-crochet-pattern-p-440.html
http://maggiescrochet.com/christmas-ornaments-set-1-crochet-pattern-p-401.html
http://maggiescrochet.com/lacy-angels-set-crochet-pattern-p-449.html
http://maggiescrochet.com/poinsettia-angel-doily-crochet-pattern-p-88.html
http://maggiescrochet.com/little-angels-set-crochet-pattern-p-452.html
Angel Afghan that matches Angel Tree Skirt – Tree Skirt Pattern is coming soon.
http://maggiescrochet.com/angel-afghan-crochet-pattern-p-92.html