Hi : >
Rebecca Sommers Cramer requested a video on our Facebook page for the Chainless Foundation. This one's for you Rebecca….
Speaking of Facebook… Have you joined? Interact with over 35,000 kindred crochet spirits from all over the world… FACEBOOK
I have to admit – until I did the videos on the chainless foundation I HATED IT!!! Now I love it!!! I figured out I was doing it all wrong.
Learn Chainless Foundation from Me – I promise – You Will Get It!!!
If you have been struggling – trying to figure out how to do the chainless foundation for single, half double and double crochet stitches – I have the videos for you!!!
Here's the info…
and.. Below are the video links.
Learn a new method of crocheting a foundation row using the chainless foundation double crochet method (FDC). Once you master this method, it may be the only way you start crochet projects from now on (can also be done with a single or half double crochet stitch). A chainless foundation may seem difficult to crochet, but really it is similar to a regular double crochet stitch with one extra step. The foundation row is made in a vertical fashion, but then you continue crocheting the pattern using the standard double crochet stitch in a horizontal manner after completing the foundation.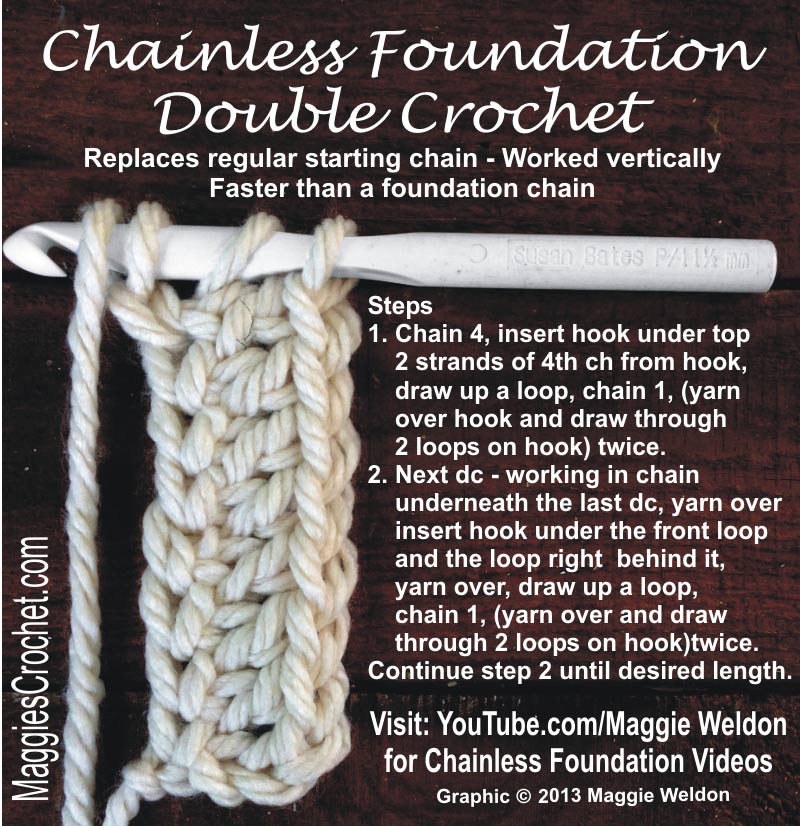 There are several advantages to making a chainless foundation double crochet instead of a chain foundation. A chain foundation doesn't have much stretch or give, which can give you problems when making clothing. A chainless foundation has plently of stretch so it is ideal for starting clothing projects or accessories like headbands. This foundation row is also flat, instead of the loopy edge found with chain foundations, for an appealing look on the edge of clothing.
Steps for a Chainless Foundation Double Crochet stitch:
Step1: Chain 4, insert hook under top 2 strands of 4th ch from hook, draw up a loop, chain 1, (yarn over hook and draw through 2 loops on hook) twice.
Step 2: Next dc – working in chain underneath the last dc, yarn over insert hook under the front loop and the loop right behind it, yarn over, draw up a loop, chain 1, (yarn over and draw through 2 loops on hook)twice.
Continue step 2 until desired length.
As you can see in the steps, the main portion of the chainless foundation double crochet stitch uses the same steps as a standard double crochet stitch. Convert a chain foundation pattern to use the chainless foundation double crochet by adjusting the pattern slightly. Make the number of chainless foundation stitches as the pattern calls for in the first row, or three less than the chain foundation number.
Check out the corresponding lesson video
And the left-handed version
Learn how to do these other chainless foundations:
Chainless Foundation Single Crochet
Chainless Foundation Half Double Crochet
Hugs – Maggie
Be sure to…
Visit my Website
Join me on Facebook
Subscribe to the Maggie Weldon YouTube Channel for crochet lesson videos
Subscribe to Maggie's Crochet YouTube Channel for product reviews
Sign Up for My Newsletter
Follow us on Pinterest
Follow us on Twitter