Do you have a crochet person on your holiday shopping list? Wouldn't it be great to give them something special that they can use in their favorite pastime? Or maybe you're looking for something extra special for yourself.  Let's take a look at some ideas that are sure to please.
 Hooks 
Crochet hooks come in a huge number of sizes and are made of various materials, from metal to wood to plastic. Great quality crochet hooks can make such a big difference in the crochet experience. Here are some sets that will definitely bring a smile to your crocheter's face!
Crochet Master Steel and Aluminum Hook Set
There is never a worry about not having the right hook for the crochet project you want to make. All you need to do is pull out the Crochet Master Steel and Aluminum Crochet Hook Set. With 24 hook sizes available in the kit, you are bound to find the one you need.  This kit is especially good for the thread crocheter on your list. The zipper case holds everything safe inside so the hooks stay put and don't get lost. This small-sized case fits neatly in your crochet bag so you can take all the hooks with you when you travel. You can take many projects with you to keep busy, and always have a hook to get them done.
Clover Getaway Soft Touch Gift Set
The Clover Getaway Soft Touch Crochet Hook Gift Set makes a perfect gift for someone just getting into crochet, or who doesn't have a nice set of hooks. These hooks are designed to minimize fatigue for those crocheters who just don't know when to stop. The  carry case keeps your hooks all in one place, and the pink and striped carry case is just plain gorgeous, sure to make it easy to spot.
Other tools / equipment
There's more to crochet than just the hooks!
The Red Dot line offers a range of lightweight, durable scissors and shears. With their cutlery-quality stainless steel blades and adjustable pivot assembly, Red Dot scissors and shears provide strength and sharpness along with matte black polypropylene handles for a sure, non-slip grip.
CLOVER-Lock ring markers are used for marking stitches, making for precise crochet work. These markers are designed to hook onto the stitch,  and the safety pin locking mechanism assures that the marker will not fall off.
Books
100 Quick Easy Crochet Stitches
The perfect gift for the beginning crocheter.
Learn how to crochet faster than ever with this book by Darla Sims. Patterns consist of mostly double crochet stitches and chains to work up quickly. It will show you ways to crochet faster by changing a single crochet to a taller stitch such as a half double crochet, double crochet or even a treble crochet stitch or by using a larger hook. Included are tips on turning chains, gauge and how to make any project the same dimension and reduce your time to work the over-all piece.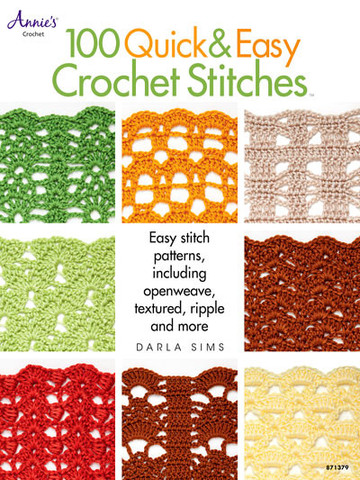 For the more advanced crocheter
Crochet Master Class presents 18 crochet techniques taught by some of the world's best crochet designers and instructors. Each chapter focuses on a different technique, inviting you to dip in, experiment, and then apply your newfound skills to create a custom piece designed by these crochet luminaries. You'll learn Hairpin Lace from Stitch Diva Jennifer Hansen, discover the intricate color work of tapestry crochet from Carol Ventura, and explore free-form crochet with renowned fiber artist Prudence Mapstone. Filled with expert instruction, inspiring stories, and projects created exclusively for this book, Crochet Master Class is your guide to the incredible range of crochet possibilities.
25 great ideas to put your new skills to the test!
In Crochet at Home, editor Brett Bara and a team of crochet experts bring 25 exciting home projects to life. Explore a collection of practical, pretty pieces for your kitchen, living room, and bedroom: from a riotously colorful blanket, to a delicate bunting of crocheted snowflakes, to flower-inspired trivets that are anything but dull-and even a full-sized ottoman! Techniques such as felting, lace, and crocheting with wire will appeal to beginner and advanced crocheters alike. Projects are made in affordable yarns, especially for large pieces and ones that take a beating, like kitchen accessories. Join Brett and her team of all-star crocheters in this cheerful, affordable, and occasionally humorous take on home decor in this new and approachable resource.
YARN!
We all know you can NEVER have enough yarn. Here are some great yarns from Premier.
Premier Afternoon Cotton Colors
Afternoon Cotton Colors offers a variety of shades for your creative needs. The light weight yarn is perfect for those projects. Imported.
1.75 oz/50 g, 136 yds/124 m
 100% Egyptian Giza Mercerized Cotton
Machine wash, dry flat. No bleach. May iron.
Ever Soft is a light-worsted weight oh-so-soft acrylic perfect for a wide range of projects. This brilliant and lustrous yarn offers great tonal ranges ideal for afghans – and a seasonal palette of brights and pastels perfect for year-round garments for babies, kids, and adults!
3 oz/85 g/158 yd / 77 m
100% Acrylic
Machine wash, not bleach safe, tumble dry with low heat
This is a great basic wool for felting projects and wherever you desire a 100% wool project. Afghans, rugs, sweaters, winter accessories: Wool Worsted is perfect for all these and more!
3.5 oz / 186 yd / 170 m
100% Wool
Hand wash, cold water, lay flat to dry, not bleach safe, not safe to iron
Hopefully you've found something here that will delight  one of the crocheters on your shopping list. Or you may have found something to put on your own wish list! Either way, we have lots of other ideas for great crochet gifts. Check out our Ladies Gift Ideas for the Season or our Gift Ideas for Gents.
Happy Shopping,
Maggie Weldon
Be sure to…
Visit my Website
Join me on Facebook
Subscribe to the Maggie Weldon YouTube Channel for more crochet lesson videos
Subscribe to Maggie's Crochet YouTube Channel for product reviews
Sign Up for My Newsletter
Follow us on Pinterest
Follow us on Twitter