Parfait Green Flip Flop Free Crochet Pattern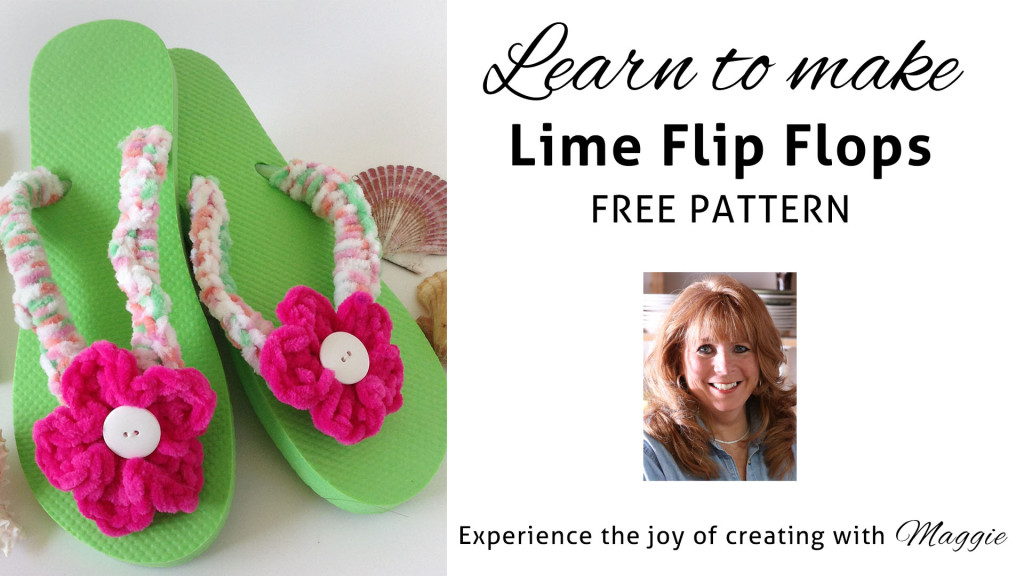 Here we have another fashion flip-flop accessorized with a summer flower. This Green Flip-Flop crochet pattern features a double-crochet petaled flower. The band of the flip-flop is covered using half-double crochet stitches. Again, we've used a plain button to finish the flower, but you could choose a more elaborate button to complete your fashion look.
Parfait Yarn by Premier is the yarn we've chosen for this project, using a solid color for the flower and a multi-color for the band. You can always use your imagination and come up with your own color scheme. Parfait comes in several beautiful colors.
Watch the Right-Handed Video Lesson:
Watch the Left-Handed Video Lesson:
Here are the quick links to products and videos contained in this post:
Green Flip-Flop crochet pattern
Maggie is excited to bring you Five Free Flip-Flop Patterns: Sashay Mini Aqua, Merry Pink, Hipster Yellow, Home Cotton Purple, Parfait Green.
Hugs, Maggie
Be sure to…
Visit my Website
Join me on Facebook
Subscribe to the Maggie Weldon YouTube Channel for crochet lesson videos
Subscribe to Maggie's Crochet YouTube Channel for product reviews
Sign Up for My Newsletter
Follow us on Pinterest
Follow us on Twitter
Leave us a comment below