Enter the Earth Rug Crochet Challenge by April 1, 2014 11:59PM EST.
Please join me in our next Crochet Challenge sponsored by Maggie's Crochet and Premier® Yarns. To join the fun, crochet a rug using our Free Earth Rug Crochet Pattern.
Enter your creation to win $50 value of Premier Yarns!
Please read the Earth Rug Crochet Challenge Rules & Submission Guidelines
SUGGESTED MATERIALS
Craft Tee Yarn
Deborah Norville Serenity Chunky Yarn
Deborah Norville Cuddle Fleece Yarn
Couture Jazz Yarn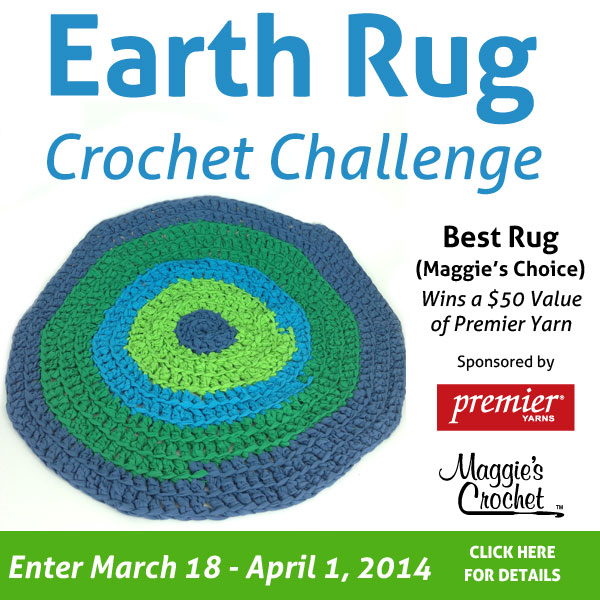 RSVP to the Facebook event page for challenge updates and to post your in-progress photos. We would also love to see your photos posted to www.Facebook.com/MaggiesCrochet or www.Facebook.com/PremierYarn so those not participating in the challenge can see your beautiful creations!
Take a look at the entries from previous challenges – everyone did an amazing job!
Arm Knit Challenge
Enchant Scarf Crochet Challenge
PomPom Hat Mini Challenge
Christmas Stocking Mini Challenge
Blooming Granny Square Challenge
Thanks for reading – I can't wait to see your projects!
Maggie
Be sure to…
Visit my Website
Join me on Facebook
Subscribe to the Maggie Weldon YouTube Channel for crochet lesson videos
Subscribe to Maggie's Crochet YouTube Channel for product reviews
Sign Up for My Newsletter
Follow us on Pinterest
Follow us on Twitter