Home Cotton Purple Flip Flop Free Crochet Pattern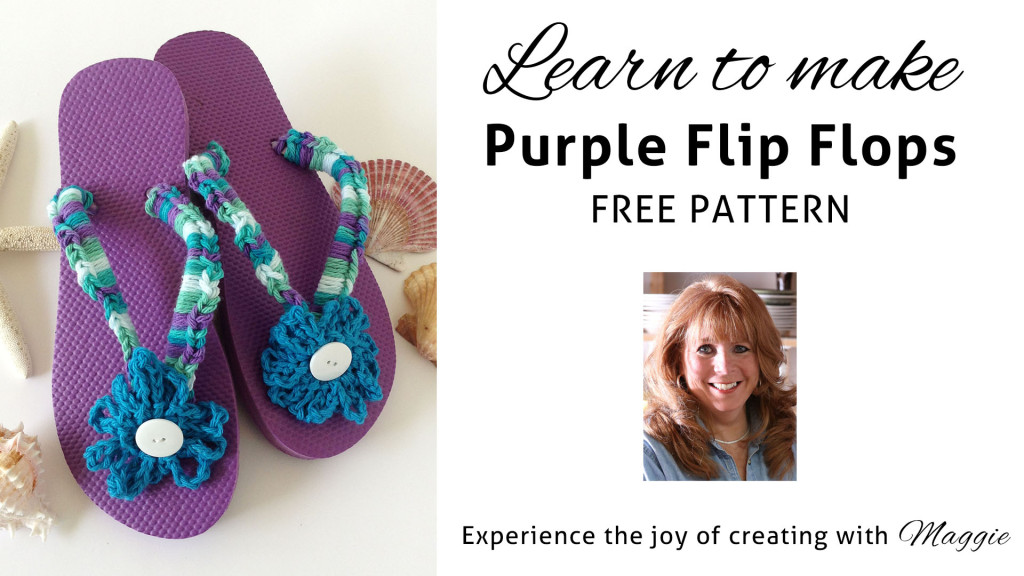 One of the easiest ways to update an accessory is to add a flower, which is exactly what we've done with these cute Purple Flip-Flops. The flower is crocheted in a circle using a long chain stitch loop to create the petals. A button adds the perfect finishing touch to the flower. The band of the flip-flop is covered by simple single crochet.
Home Cotton yarn is the perfect choice for flip-flops. We've used a solid color for the flower, and a matching multi-color for the band. Don't be afraid to get these flip-flops wet at the pool, because Home Cotton is made for crocheted kitchen items that will stand up to water and keep looking bright and new.
Watch the Right-Handed Video Lesson:
Watch the Left-Handed Video Lesson:
Here are the quick links to products and videos contained in this post:
Purple Flip-Flop crochet pattern
Home Cotton Multi-Colored Yarn
Maggie is excited to bring you Five Free Flip-Flop Patterns: Sashay Mini Aqua, Merry Pink, Hipster Yellow, Home Cotton Purple, Parfait Green.
Hugs, Maggie
Be sure to…
Visit my Website
Join me on Facebook
Subscribe to the Maggie Weldon YouTube Channel for crochet lesson videos
Subscribe to Maggie's Crochet YouTube Channel for product reviews
Sign Up for My Newsletter
Follow us on Pinterest
Follow us on Twitter
Leave us a comment below