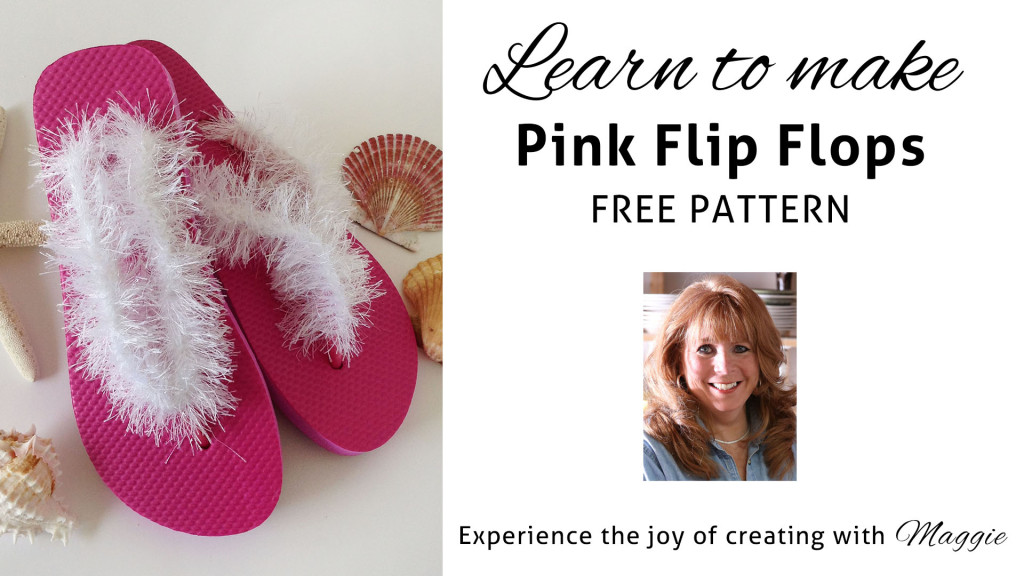 Pink is one of our favorite summer colors. This Pink Flip-Flop crochet pattern is super simple, requiring only a single crochet stitch over the band of the flip-flop. Just imagine how cute these flip-flops will be with a great pink pedicure!
We've chosen Merry Yarn for these whimsical flip-flops. Merry adds a festive touch to all of your projects. Use Merry for trim on any project – or work an all-over pattern to add sparkle and glow to your crafts.
Watch the Right-Handed Video Lesson:
Watch the Left-Handed Video Lesson:
Here are the quick links to products and videos contained in this post:
Pink Flip-Flop crochet pattern
Maggie is excited to bring you Five Free Flip-Flop Patterns: Sashay Mini Aqua, Merry Pink, Hipster Yellow, Home Cotton Purple, Parfait Green.
Hugs, Maggie
Be sure to…
Visit my Website
Join me on Facebook
Subscribe to the Maggie Weldon YouTube Channel for crochet lesson videos
Subscribe to Maggie's Crochet YouTube Channel for product reviews
Sign Up for My Newsletter
Follow us on Pinterest
Follow us on Twitter
Leave us a comment below