Do you crochet and knit – one or the other or both?
I crochet and I knit but I prefer crocheting by far. I'm fast at crocheting and can make my own designs, which I'm not able to do in knitting, so I prefer to crochet.
How did you learn crochet (or knit)?
It's a little bit of a funny story. When I was six years old, I came home one day from school with the mumps, which I caught from one of my little friends there. The doctor sent me to bed for a week, but I was getting out of bed to tag along after my mom "every five minutes" or it seemed to her, so she, being a very smart lady, got me some colorful variegated yarn and a hook and taught me how to crochet. That was it for me, I was "hooked!" And she was also able to get me out of her hair. . .I have crocheted ever since. I learned to knit when I was around 12, when my sister learned to knit, but it has never stuck with me like crocheting has.
How did you become a designer?
Quite by "accident" or I should say by Providence, since I'm a Christian believer. My mom and I teamed up to help Warm Up America with blocks to be made up into afghans for the homeless. We loved it so much, that we looked for something to do throughout the year. We found Warming Families and started helping them. I wanted to make scarves for them, at times I made gloves and fingerless gloves, capelets, shawls, and other "warmies," while my mom specialized in hats. It was wonderful fun for us, something we could do together as a mother and daughter team, even though we worked on our projects separately. Out of sheer need to produce items, I started working on coming up with my own patterns and it became easier and easier and those are the ones I use. We established a wonderful relationship with the leader of our Warming Families leader, who has become a friend, and since she also helped other charities, we got involved with little orphans and abused children and I wanted to make toys for them. The first toy I started to make was a complete failure. It did not come out at all. So I put it aside and forgot about toys for the kids and went into something else. Months later, the thought came up again, and I started designing toys for them, this time, it worked! The pattern flowed naturally. I was so grateful to the Lord for giving me the idea! The toys were a hit from the beginning. I decided to share the patterns online and people loved them. I have received so many emails telling me how kids love them and that makes me really happy. The business came out as a consequence of people loving my patterns and wanting more, more, more. I had just been sharing freely all over, and simply making friends, but people wanted more of my toys, so I have made special designs for them, different than the ones I still share for free. Since they were having so much fun making my toys, the name Funmigurumi was a natural for them.
How long have you been designing?
I think about 3 or 4 years. . .
Do you design full time?
When I started I didn't, but now I design full time.
Describe your typical day.
I don't know what a typical day is! I don't seem to have one. For example, this summer we have had thunderstorms almost every day and I like to work at my computer while I write a pattern so that I can type it as my ideas flow, that way, I won't forget anything. My design process is very spontaneous and organic, and I love to have a keyboard to set things in "concrete" before they evaporate. Well, with a daily thunderstorm, it has been really hard. But I would say my typical working day starts around noon, after I've finished with the things I have to do around the house. I gather the colors of yarn I want to work with and I sit at my computer and start working on a design. Later in the afternoon, I fulfill orders, I respond to emails and messages, I share in some social media sites in which I am active, I prepare posts for my blogs, etc.
What is your favorite type of design to create?
Toys. I just love the joy they bring to both adults and children.
Where do you get your inspiration?
I really don't know. I don't copy anyone. As I said before, I'm a Christian and I make the Lord a big part of everything in my life that means something to me, I can say my inspiration comes from Him, from the love He has put in me for people, for children, for color, for life. . .
What is your favorite yarn to use?
I prefer acrylic yarns because they do not cause allergies, for the most part. I used the Red heart brand a lot because it is very affordable to all and readily available. I don't want to frustrate a person who wants to make a pattern by requiring an exotic yarn that they cannot find locally. It is true that many can purchase online, but I have followers in other countries who make my patterns, and they sometimes do not have the same opportunities we have.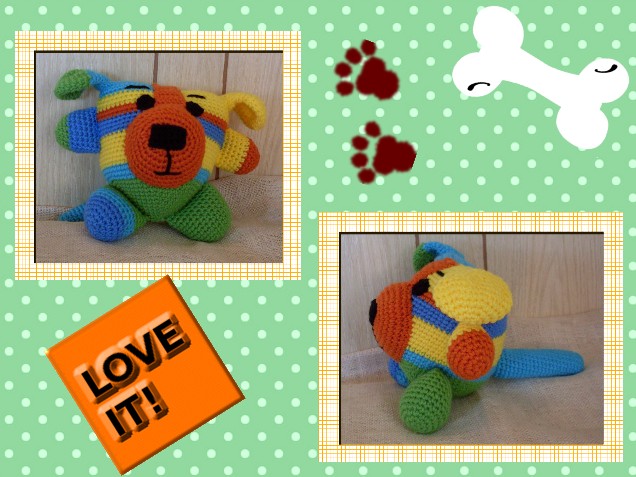 Do you have a favorite stitch?
For my scarf designs I just love lace, any kind I can come up with. For my toys, sc is the main stitch I use.
What design are you most proud of?
My dolls, Liza Beth and Abby. I love the way they came out.
What are you currently working on?

I'm currently working on another doll and a fox.
Anything else you'd like to mention?
I just love people. I'm very grateful for all the support I've gotten from wonderful crocheters online. I've been privileged to "meet" terrific people who love what I do and give me tremendous encouragement to continue my work. I appreciate all of them a lot!
How do you "get away from it all"?

I don't. I sort of "incorporate" the chaos into my own work. If I'm working and I get interrupted, (that's where typing it comes in handy) I quickly write it down, get up and get into whatever has come up.
Please list all your designs currently in print:
I have had opportunity to submit my work but haven't done it. But I have a store online where I offer PDF patterns for sale, some of them are also on Ravelry, but a handful, in comparison with my own store. Right now, I have my hands full with that.
Thank you for the opportunity to share my work with your readers. I've appreciated your work for a while, it is beautiful! I believe in encouraging other crocheters, each of us expresses creativity and inspiration in a different way, like the facets of a gem, and I think that enriches the art of crochet and keeps it vibrant, interesting and growing.
If you enjoyed reading this interview, read our Interview: Annette Petavy
Hugs, Maggie
Be sure to…
Visit my Website
Join me on Facebook
Subscribe to the Maggie Weldon YouTube Channel for crochet lesson videos
Subscribe to Maggie's Crochet YouTube Channel for product reviews
Sign Up for My Newsletter
Follow us on Pinterest
Follow us on Twitter