Sunbonnet Sue is perhaps one of the most widely recognized crochet and needlework designs. This lovely and traditional pattern is used to create the most charming dolls, clothing, quilts, and accessories, and makes the perfect addition to country home décor. But did you know that Sunbonnet Sue can be traced all the way back to the late 1800′s? British book editor Kate Greenaway first introduced the design in her book entitled Under the Window in 1878, depicting little girls in bonnets who would become the inspiration for "Sunbonnet Sue." This particular pattern is not only a popular modern crochet design; it's also an important piece of history!
The Mini Broom Dolls Pattern Leaflet featured on Maggie's Crochet includes eight original thread designs by Maggie Weldon.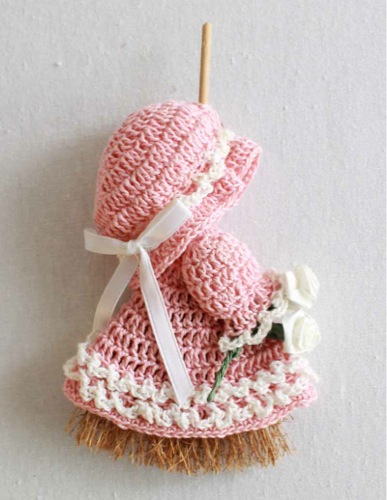 01R – Sunbonnet Sue: Inspirational Designs and History
And here are some other inspirational designs:
Elaine's Crafty Corner's Baby Quilt
Sunbonnet Sue Doll Quilt and Pillow from Etsy
Maggie's Old Fashioned Girl Doily
And those new to this pattern should be sure to check out this free Sunbonnet Sue Broom Doll Pattern from Maggie's Crochet!
Thanks for reading,
Hugs, Maggie
Be sure to…
Visit my Website
Join me on Facebook
Subscribe to the Maggie Weldon YouTube Channel for crochet lesson videos
Subscribe to Maggie's Crochet YouTube Channel for product reviews
Sign Up for My Newsletter
Follow us on Pinterest
Follow us on Twitter