Owls: beloved animals, and cute additions to our crochet collection. Everyone here loves the crochet critters, so this week we're showing off our best owl products. Any of them would be a great gift for the family! Currently, we have sales on lots of our items featuring owls, from afghans to how-to books. We've even found some tutorials on making crocheted owls and some new owl hats on Etsy. Owls have taken over- Check it out!
Owl T-Shirt Dress, Hat and Purse Crochet Pattern
"This is the cutest T-shirt dress for a child that I have seen. I ordered this so that I would be able to make this cute outfit and accessories for my granddaughters. The colors are great for spring and summer and the owl makes this outfit perfect!!! The pattern is available in a "download" which makes ordering very easy. Thank you Maggie, for a darling design and I know my granddaughters will love the Owl dress, hat, and purse." -Sandra V.
You can snuggle up to your favorite animal with this adorable afghan and pillow combo. Cute!
In the interactions of the 17 Cute Little Animals collectibles, "owl gals Hedda Ooglesby and daughter Syble run an organic café."
Among the crocheted children's backpacks from Amigurumi are the best of the bunch- these charming crocheted owls! All the little ones will love them.
Everyday Crochet For All has instructions to make these adorable crocheted owls at home, and gives you the yarn to do it! Perfect for tea parties with the kids.
Bunny Mummy's Crochet Tutorial
If you want to learn how to make these fun-sized hanging owls, Bunny Mummy has a great tutorial- easy to understand and easy to make!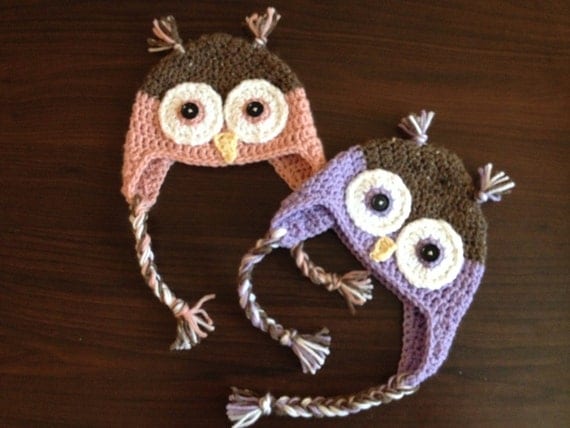 Crochet Hat Shop on Etsy has these precious hats. Great gift for the little ones in your family!
If you like this post, watch Maggie's video comparison of the Tulip Etimo Rose hook Set and the Amour Hook Set.
Thanks for reading,
Hugs, Maggie
Be sure to…
Visit my Website
Join me on Facebook
Subscribe to the Maggie Weldon YouTube Channel for crochet lesson videos
Subscribe to Maggie's Crochet YouTube Channel for product reviews
Sign Up for My Newsletter
Follow us on Pinterest
Follow us on Twitter