Home Raffia Beach Bag Free Crochet Pattern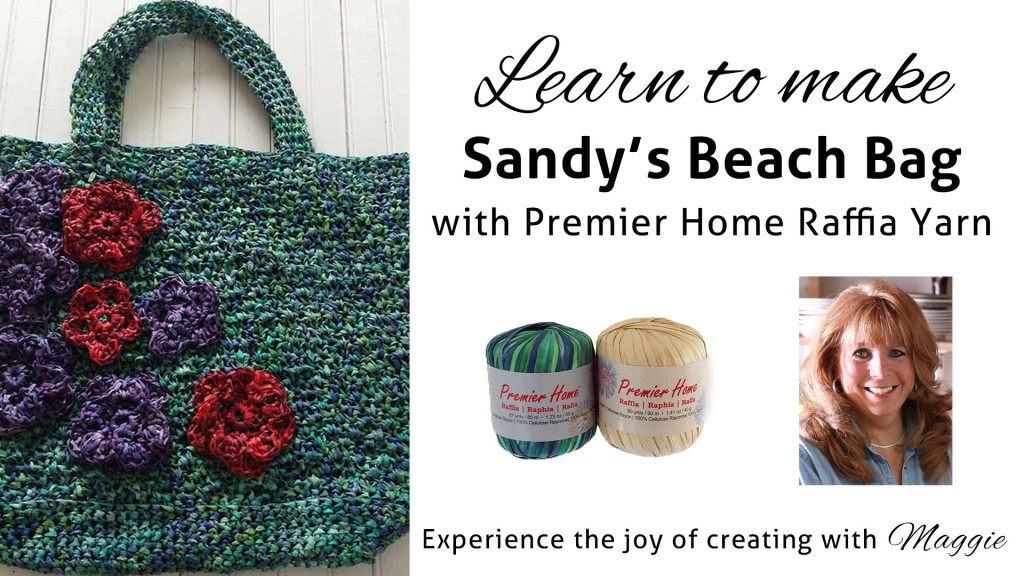 Summertime means going to the beach, and what is the most important thing to take to the beach? Sunscreen, of course, but you'll need something to carry that sunscreen in. Sandy's Beach Bag  is the perfect accessory for the beach or any other vacation spot.
Sandy's Beach Bag is crocheted using Home Raffia Yarn from Premier Yarns. Raffia Yarn is a #4 medium weight yarn consisting of 100% Cellulose Rayon. It come in natural (a light tan) and a variety of colors including Azurite, seen above as the main part of the bag. You will need five balls of Raffia yarn in your main color and one ball each for the flower appliques, as well as a size I-9 crochet hook. The finished project will be about 14 inches high, 17 inches wide, and 5 inches deep. This easy pattern is started at the base of the bag, working up the sides in rounds. The handles and flowers are made separately and sewn on when completed. Watch the tutorials below for more tips and tricks!
Watch the Right-Handed Video:
Watch the Left-Handed Video:
Here are the quick links to the products and videos contained in this post:
Sandy's Beach Bag Free Crochet Pattern
Hugs, Maggie
Be sure to…
Visit my Website
Join me on Facebook
Subscribe to the Maggie Weldon YouTube Channel for crochet lesson videos
Subscribe to Maggie's Crochet YouTube Channel for product reviews
Sign Up for My Newsletter
Follow us on Pinterest
Follow us on Twitter
Leave us a comment below