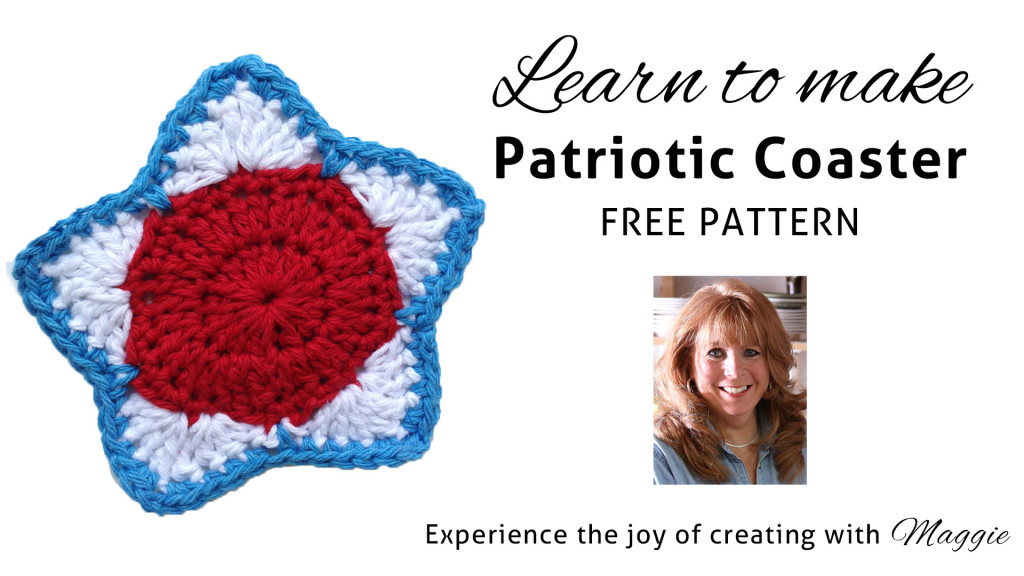 Independence Day is coming soon! Did you know that the oldest continuous Independence Day celebration in the United States is the 4th of July Parade in Bristol, Rhode Island? This parade has been held every year since 1785. That's a lot of parades!
Are you having an Independence Day celebration? It's probably going to be hot, and you can use these Patriotic Coasters for your drinks. They also add a festive touch to your holiday decor.
You will want to make your coasters from a worsted weight cotton yarn. Cotton is best for this project because your coasters are going to get wet, and cotton will absorb that moisture. It's also an easy care yarn; just throw your coasters in the washer and dryer and they're ready to use again. We've chosen Home Cotton for this project. You will also need an H-8 crochet hook.
Watch the Right-Handed Video Lesson:
Watch the Left-Handed Video Lesson:
Here are the quick links to products and videos contained in this post:
Patriotic Coaster Free Crochet Pattern
Maggie is excited to bring you these new Patriotic patterns: Enchant Flowers Flower, Patriotic Coaster, Patriotic Merry Necklace, Patriotic Oven Mitt, Starbella Starry Night Patriotic Necklace, Patriotic Pony Tail Holder, Patriotic Ruffled Merry Scarf.
Hugs, Maggie
Be sure to…
Visit my Website
Join me on Facebook
Subscribe to the Maggie Weldon YouTube Channel for crochet lesson videos
Subscribe to Maggie's Crochet YouTube Channel for product reviews
Sign Up for My Newsletter
Follow us on Pinterest
Follow us on Twitter
Leave us a comment below