Stitch Repeat Polka Dots – Free Crochet Pattern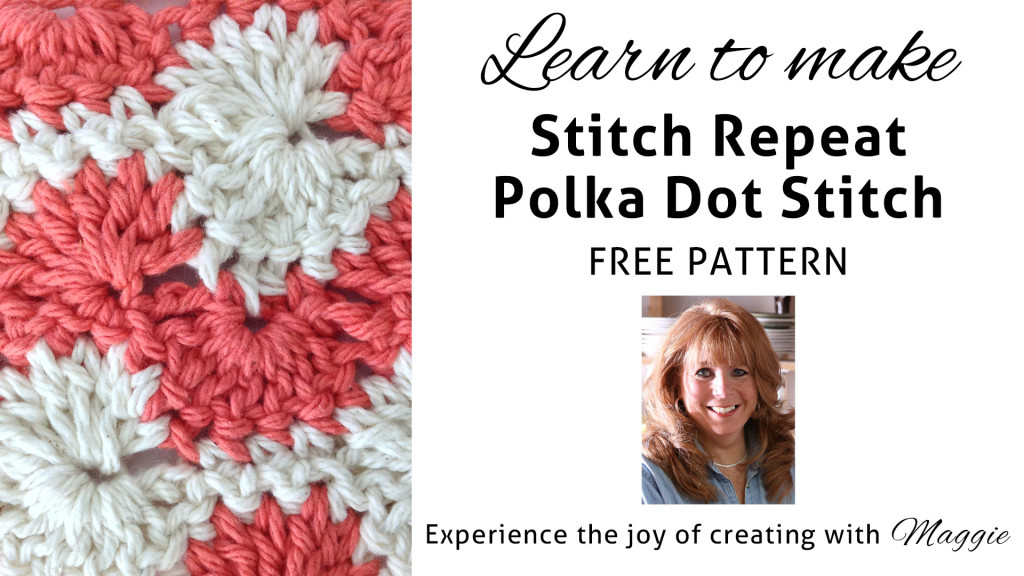 This fun Polka Dot pattern is a variation of the Catherine Wheel Stitch (click here to watch the Right and Left handed Catherine Wheel videos). In this photo we used one color for our polka dots and another for the background, but you can also make each row of polka dots a different colors (watch the tutorial video below for an example).
This stitch repeat can be worked with any size yarn. Use the hook size recommend for whatever yarn you choose. Worsted weight yarn is a good size to practice with.
Watch the Right-Handed Tutorial Video:

Watch the Left-Handed Tutorial Video

Here are the quick links to the products and videos contained in this post:
Maggie is excited to offer Seven Free Stitch Repeat Patterns: Berry Stitch, V-Stitch, Cross Stitch, Shell #1, Granny Rows, Polka Dots, & Long Single Crochet.
Hugs, Maggie
Be sure to…
Visit my Website
Join me on Facebook
Subscribe to the Maggie Weldon YouTube Channel for crochet lesson videos
Subscribe to Maggie's Crochet YouTube Channel for product reviews
Sign Up for My Newsletter
Follow us on Pinterest
Follow us on Twitter
Leave us a comment below