A highlight of my fall crochet travels was attending The Fall 2013 Crochet Guild of America Knitting and Crochet Conference in Concord, North Carolina. The event featured a Crochet Design Competition that showcased the talents of many crochet artists. Entrants in the Design Competition could choose from six categories; Accessories, Afghans and Home Décor, Small Accessories, Fashion, Thread Crochet and Artistic Expressions.
All entries in the listed categories were the original work of the entrant and not previously entered in a competition or the patterns published. The items could incorporate other fiber or needle crafting arts in the piece, but must have the overall impression of crochet. Entries in the 2013 Design Competition brought a creative edge and inspiring for crochet enthusiasts.
Award winners for the Fashion Category, Thread Crochet Category and Artistic Expression Category are listed below. The full listing can also be found on the CGOA Blog at http://cgoanow.blogspot.com/2013/10/cgoa-2013-design-competition-results.html
Category winners received $300 for First Place, $200 for Second Place an $100 for Third Place.
Thread Crochet Category (sponsored by Boye and The Crochet Dude, Drew Emborsky). Items in this category include anything made with a lace/fine weight yarn or crochet thread; such as doilies, baby items, gaments and accessories.
First Prize – "Princess of Circles" by Carol Booth.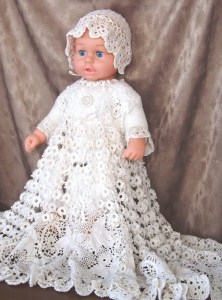 Second Prize – "Calcutta Doily" by Kathryn White.
Third Prize – "Rose Ensemble" by Kathie Earle .
Honorable Mention – "Rendezvous" by Kathryn White.
Fashion Category (sponsored by Interweave Crochet). Items in this category include any garments that are fitted to the body; such as sweaters, jackets, dresses, tops, skirts or gowns.
First Prize – "Afternoon Tea" by Kathryn White.
Second Prize – "Connemara Beauty" by Jennifer Ryan.
Third Prize – "Frilly Summer Cardigan" by Susan Walsh, from Australia.
Honorable Mention – "Summer Lace Dress" by Janelle Ponte.
Artistic Expressions Category (sponsored by Jenny King Designs). Items in this category include any design items that have an artistic nature, instead of being a functional item. Artistic Expression items include sculptures, hangings, mixed media items, amigurumi, wearable art pieces or novelty items.
First Prize – "Summer Visitors" by Sachiko Adams.
"Summer Visitors" also won the $100 Founders Prize, sponsored by CGOA  founder Gwen Blakley Kinsler.
Second Prize – "Philomena" by Kate Buckner.
Third Prize – "Owl Sit With You" by Deborah Bagley.
Honorable Mention – "Meeting Mr. Tumnus by the Lamp in Narnia" by Deborah Bagley
People's Choice Award Winner "Sparkling Shells Evening Shawl" by Susmita Mullick. The $100 award was sponsored by Karen Whooley/KRW Knitwear Designs. The winning entry was voted on by attendees at the CGOA 2013 Conference in Charlotte/Concord, NC.
More details on the CGOA 2013 Design Competition and inspiring photos of the entries can be found on the Crochet Guild of America Website at http://www.crochet.org/?page=DesignContest
Hugs,
Maggie
Be sure to…
Visit my Website
Join me on Facebook
Subscribe to the Maggie Weldon YouTube Channel for more crochet lesson videos
Subscribe to Maggie's Crochet YouTube Channel for product reviews
Sign Up for My Newsletter
Follow us on Pinterest
Follow us on Twitter