Crochet rugs have been around for years.  They come in all shapes, sizes, colors and designs.  They are trendy, stylish, functional and have a very fun process behind the final product.  Check out some of these beautiful crochet rugs from around the web:
Beautiful minimalist floral rug from Architonic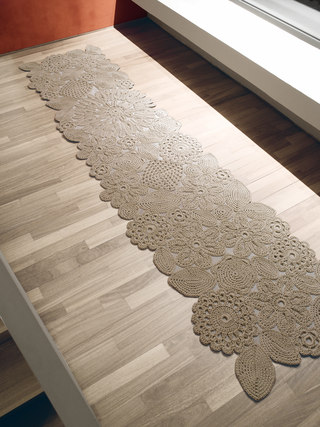 Amish crocheted rug from Eco First Art
Handmade Mega Doily Rug from Etsy seller ladiesandgentlemen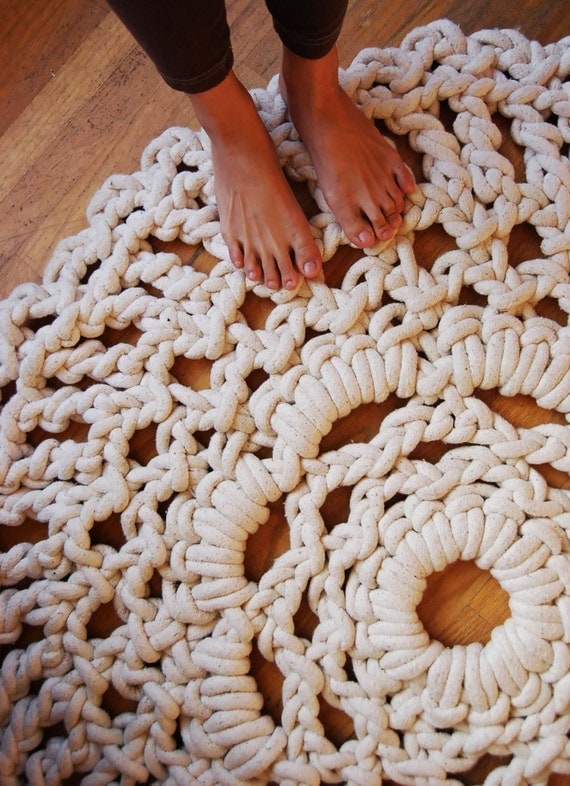 Crochet Tarn Bath Rug via Happy Lizard Hill
Giant Granny Squares as rugs using super bulky yarn from Dana Barnes
Designs and concepts for crochet rugs are endless as you can see.  These are merely inspirations as to what you can do for your home.  Family and friends will definitely be impressed and would love to display one of these in their home.  Feel free to explore different patterns and yarns to create a unique texture and feel for your home!
At Maggie's Crochet, we offer a really great book to help get you started on creating your own signature rugs!
Stylish Rugs for Every Room Pattern #LA3782
For many more great ideas on crochet home decor, take a look at "Crochet at Home" blog post here!
Thanks for reading,
Hugs, Maggie
Be sure to…
Visit my Website
Join me on Facebook
Subscribe to the Maggie Weldon YouTube Channel for crochet lesson videos
Subscribe to Maggie's Crochet YouTube Channel for product reviews
Sign Up for My Newsletter
Follow us on Pinterest
Follow us on Twitter