Let's travel back to a time when crochet was becoming a popular clothing and accessory trend. Yes, there are numerous patterns out there today for crocheted ponchos, granny square rugs, slouchy hats and the like, but where did these patterns originate? How have we come to adapt such patterns and trends? These patterns have been around for decades and we have adapted them to suit modern day style. Still, these trends are classic and these patterns are an absolute delight to reminiscence about. Take a look at some of our favorite vintage inspirations:
Crochet Granny Squares – Woman's Millefleurs Skirt from Grandmother's Pattern Book
Crocheted Granny Squares – Long Tailored Vest also from Grandmother's Pattern Book
Vintage Umbrella Tote from Free Vintage Crochet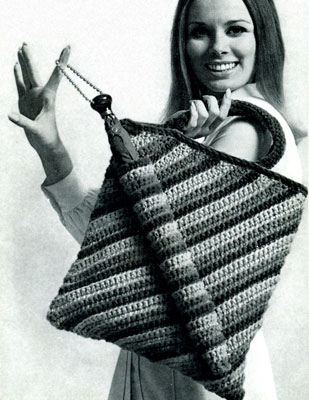 Stole Blouse Pattern also from Free Vintage Crochet; circa 1952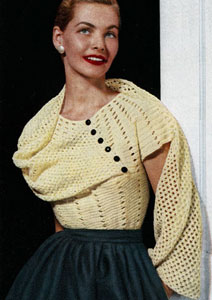 Star Shaped Crochet Hat from a collection of easy holiday crafts
Spell Binder Shawl Pattern from Free Vintage Crochet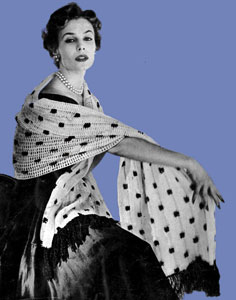 Vintage Shrink Tops Crochet and Knitting Leaflet from The Crimson Owl
These funky designs have inspired crochet designers to expand and modernize these styles.  It is these retro patterns that have such an impact on how crochet fashion is worn today. Have a look at some of Maggie's Crochet vintage inspired patterns that you can find on our website!
Vintage Granny Rows Capelet #PT026
Vintage Adult Shell Cape Pattern – Pattern #PB102
Super Easy Sweater Pattern – Pattern #PA895
Seeing the vintage and modern day designs really gives a good perspective about how fashion transitions through trends.  Crochet will always have that vintage feel which is very stylish and classic.  Even these classic Vintage Fashion Potholder Crochet Pattern  Set #PB083 are a stunning addition to modern kitchen decor.
What are your favorite vintage crochet patterns or trends? If you liked this post you will want to read our Vintage Potholder Red & Blue post.
Thanks for reading,
Hugs, Maggie
Be sure to…
Visit my Website
Join me on Facebook
Subscribe to the Maggie Weldon YouTube Channel for crochet lesson videos
Subscribe to Maggie's Crochet YouTube Channel for product reviews
Sign Up for My Newsletter
Follow us on Pinterest
Follow us on Twitter
Tell Me What You Think – comment below